Latest news
Contact us
ADD: 1F Junfeng Building, Gongle, Xixiang, Baoan District, Shenzhen, Guangdong, China
TEL: +86-755-33168386
FAX: +86-755-61605199
E-mail: sales@china-gauges.com

> Other Test Equipment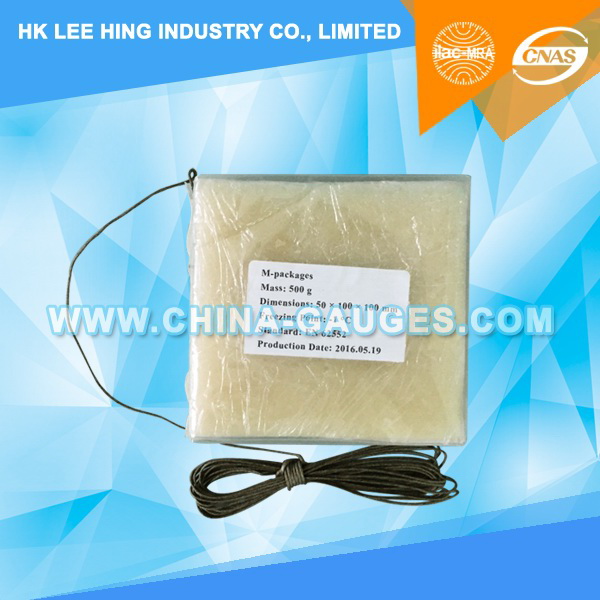 500g M-package of EN 62552 (50 * 100 * 100 mm)
Measurement & Analysis Instruments > Instrument Parts
Place of Origin: Freezing Load Test M-package
Item No.: LX-TP50M
Rated Output: Made in China
Product Description: M Packages fitted with a temperature sensor at its geometric centre.
Product introduction
500g M-package of EN 62552 (50 * 100 * 100 mm)
The Freezing Test Package for refrigerator cooling test is in accordance with the requirements of EN 62552 8.5 standard. The test package is placed in the frozen food storage compartment and chill compartment's performance test, or in a refrigerator freezer to test the freezing capability test, to simulate the freezing load capacity of frozen food.
Mass: 500 g

Dimensions: 50 × 100 × 100 mm

Freezing Point: -1 °C

Standard: EN 62552


Features:
1. The freezing point of the test package is -1℃ (Its thermal performance is equivalent to lean beef);
2. Packaging material is a thin layer of plastic, or with appropriate materials which can do medium vapor exchange with the environment, immediately seal the packaging material after filling;
3. When measured in chill compartment, must use the -5℃ test package;
4. You cannot use in test of testing freezing capacity and load temperature rise time;
5. M package means the 500g test package, it equipped with a thermocouple in the geometric center to measure the temperature. The thermocouple contacts the package directly.


Note:
1. Don't store it so long time on normal temperature, note the deformation;
2. This freezing load test package is afraid of pressure, fireproofing, waterproof, handle with care;
3. This freezing test package need to periodical inspection, no visible Holes or slits, When you find the test package exceeds the above-mentioned error, it need to be change.
M package with thermocouple wire or embedded copper pipe, -1℃ / -5℃
| | | | |
| --- | --- | --- | --- |
| Size (mm) | Weight (g) | Size Tolerance | Weight Tolerance |
| 50 × 100 × 100 | 500 | ±2mm | ±2% |
HK LEE HING INDUSTRY CO., LIMITED are specialized in manufacturing special, custom built, test and measuring equipment for products testing as per international norms and offering calibration services and related information. Our products and services are used by research & development establishments, test laboratories, defense establishments, government institutions & manufacturing industries to fulfill the clients' requirements.
Main Products: go no go gauges, IP Tester, test probe Kit, Impact Test Equipment, Test Probes, Spring Hammer, IEC 61032 Test Finger, Plugs and Socket Outlet Gauge, AC Hipot Tester, IEC Test Probe, UL Test Probe, Material Flammability Tester, IP Code Tester, Impact Test Apparatus, Security Testing Machine, Lamp Cap Gauge Tester, Lampholders Gauge Tester, Plug & Socket Tester, Electrical Safety Tester, LED Test Instruments, Environmental Test Equipment, Instrument Accessories, Weighing Sensor and More.


If you require equipment to test products such as home appliances, electrical accessories like switches, sockets, connectors, etc. industrial & road lighting luminaires, automobile lighting systems or related categories, we can provide the solutions you need.


We would appreciate your comments on the layout design, presentation or other aspects of our website.

Website: http://www.iec-test.com

Contacts: Nina She
E-mail: sales@china-gauges.com
TEL: +86-755-33168386
FAX: +86-755-61605199

Phone: +86-15919975191

SKYPE: nina.she@outlook.com
Address: 1F Junfeng Building, Gongle, Xixiang, Baoan District, Shenzhen, Guangdong, China
ZIP: 518102
Website: http://www.iec-test.com/