Latest news
Contact us
ADD: 1F Junfeng Building, Gongle, Xixiang, Baoan District, Shenzhen, Guangdong, China
TEL: +86-755-33168386
FAX: +86-755-61605199
E-mail: sales@china-gauges.com

> Other Test Equipment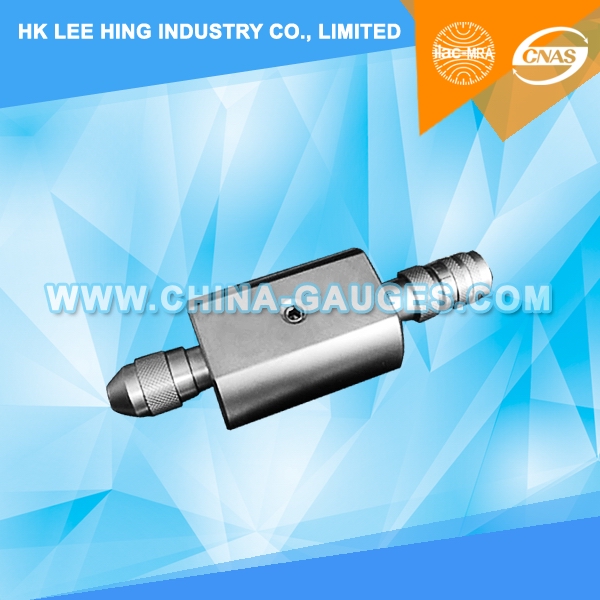 ISO 8124-1 Stainless Steel Toys Sharp Point Tester for Children Products
Measurement & Analysis Instruments > Safety Instrument
Place of Origin: Include ISO 17025 CNAS & ILAC Test Report
Item No.: LX-ST08
Rated Output: Made in China
Product Description: ISO 8124-1 Stainless Steel Toys Sharp Point Tester for Children Products
Product introduction
ISO 8124-1 EN71-1 ASTM Stainless Steel Toys Sharp Point Tester for Children Products
To determine whether accessible sharp points on toys are likely to cause injury. If the accessible sharp point penetrates a specified depth into the small rectangular opening of the tester, the LED is illuminated to indicate that the point is unacceptably sharp. Toys intended for use by children under 8 years old are subject to this requirement before or after use & abuse testing.

Accessories: weight, batteries, bulb 2 pieces

Instructions:
1. Place the sharp point tester on the accessible point and check whether the tested point can be inserted into the sharp tester to the specified depth. The pointed point of the test is inserted into the measuring slot, and an external force of 1 pound is applied to make the indicator light on. This pointed point is judged as a sharp pointed point.
2. Wooden thorns in wooden toys are dangerous sharp points, so they must not be present on toys.
3. Before each inspection, the sensor head must be adjusted according to the regulations to ensure accurate and sensitive sensing.
4. When adjusting the sharp point tester, first loosen the locking ring, and then rotate the locking ring to move it forward enough to the indicator device to expose the calibration reference scale on the circle. Turn the measurement cover clockwise until the indicator light flashes. Rotate the measuring cap counterclockwise until the appropriate micrometer mark is consistent with the calibration scale, and then turn the locking ring until the locking ring is against the measuring cap to fix the test cap in place.

Testing Standards:

16 CFR 1500.48, ASTM F963 4.8, EN-71 1998 8.14, ISO 8124
POWER 1.5AA batteries x 1 (for 2000 times test)
WEIGHT 1.5KG
DEMENSIONS 150*100*60 MM (L*W*H)
HK LEE HING INDUSTRY CO., LIMITED are specialized in manufacturing special, custom built, test and measuring equipment for products testing as per international norms and offering calibration services and related information. Our products and services are used by research & development establishments, test laboratories, defense establishments, government institutions & manufacturing industries to fulfill the clients' requirements.
Main Products: go no go gauges, IP Tester, test probe Kit, Impact Test Equipment, Test Probes, Spring Hammer, IEC 61032 Test Finger, Plugs and Socket Outlet Gauge, AC Hipot Tester, IEC Test Probe, UL Test Probe, Material Flammability Tester, IP Code Tester, Impact Test Apparatus, Security Testing Machine, Lamp Cap Gauge Tester, Lampholders Gauge Tester, Plug & Socket Tester, Electrical Safety Tester, LED Test Instruments, Environmental Test Equipment, Instrument Accessories, Weighing Sensor and More.


If you require equipment to test products such as home appliances, electrical accessories like switches, sockets, connectors, etc. industrial & road lighting luminaires, automobile lighting systems or related categories, we can provide the solutions you need.


We would appreciate your comments on the layout design, presentation or other aspects of our website.

Website: http://www.iec-test.com

Contacts: Nina She
E-mail: sales@china-gauges.com
TEL: +86-755-33168386
FAX: +86-755-61605199

Phone: +86-15919975191

SKYPE: nina.she@outlook.com
Address: 1F Junfeng Building, Gongle, Xixiang, Baoan District, Shenzhen, Guangdong, China
ZIP: 518102
Website: http://www.iec-test.com/